With two screens and seriously long battery life the Ticwatch Pro is no ordinary smartwatch, yet it has most of the usual features you'd expect on top of that, including a touchscreen and Wear OS software.
That could combine to make it one of the most interesting wearables we've seen, assuming it all comes together into a cohesive gadget.
Previously announced in China, the Ticwatch Pro is now officially coming to other countries including the US, UK and Australia. Read on below for a full introduction to what the Ticwatch Pro smartwatch will offer you if you decide to buy it soon.
Cut to the chase
What is it? A Wear OS watch with two screens
When is it out? Announced in May 2018, you can buy it now
What will it cost? Pricing is set at $249.99 / £219.99 / AU$369.99
Ticwatch Pro release date and price
Announced in China in May 2018
Officially on sale in US, UK and Australia on June 10, 2018
Set to cost $249.99 / £219.99 / AU$369.99 
First off, back in May 2018, Mobvoi announced the Ticwatch Pro for those in China and there wasn't any word on worldwide availability.
The latest news is the watch is on sale in the US, UK and Australia, with a few other countries joining it. If you live in the UK or US, you'll need to head to Amazon to be able to buy the watch and if you want it soon you'll have to be an Amazon Prime member.
It's exclusive to Amazon Prime in both countries until August 15. From then until September 30, it'll be an Amazon exclusive product but you won't have to be a subcriber to the Prime service to be able to buy it. Those in Australia can buy it from the official Mobvoi website starting today.
This is cheaper than a lot of other high-end smartwatches though with Mobvoi specializing in wrist tech that doesn't cost that much money but comes with a premium design.
Pricing for the Ticwatch Pro is $249.99 / £219.99 / AU$369.99, but we may see that fluctuate over time. That's more than both the Ticwatch S and Ticwatch E cost, but it's not as much as other high-end Wear OS watches like the LG Watch Sport.
Ticwatch Pro design and display
1.4-inch 400 x 400 OLED main screen
Low power FSTN LCD secondary display
Water-resistant with an IP68 rating
Let's start with the screen, because that's by far the most interesting part of the Ticwatch Pro. And that's because there's two of them.
You get both a circular OLED touchscreen, which is fairly standard for a smartwatch, and a low power black and white FSTN LCD display, which sits on top of the OLED screen.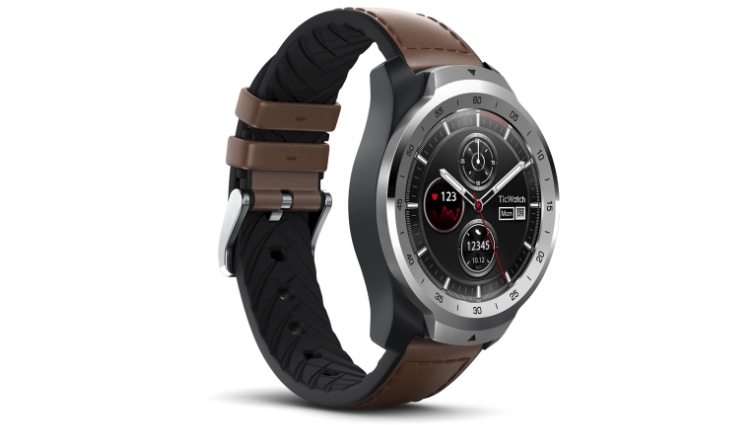 That second screen is transparent when it's not in use, so you'll only ever be looking at one screen at a time. In most cases that will be the OLED one, and you'll get a standard Wear OS experience.
However, when you're not actively using the TicWatch Pro (for example when it's just sat idle on your wrist), it will switch to the LCD display, allowing you to still see the time and certain other information while consuming far less power. You can also just use the LCD screen on its own for serious power-saving, but we'll discuss that more in the battery section below.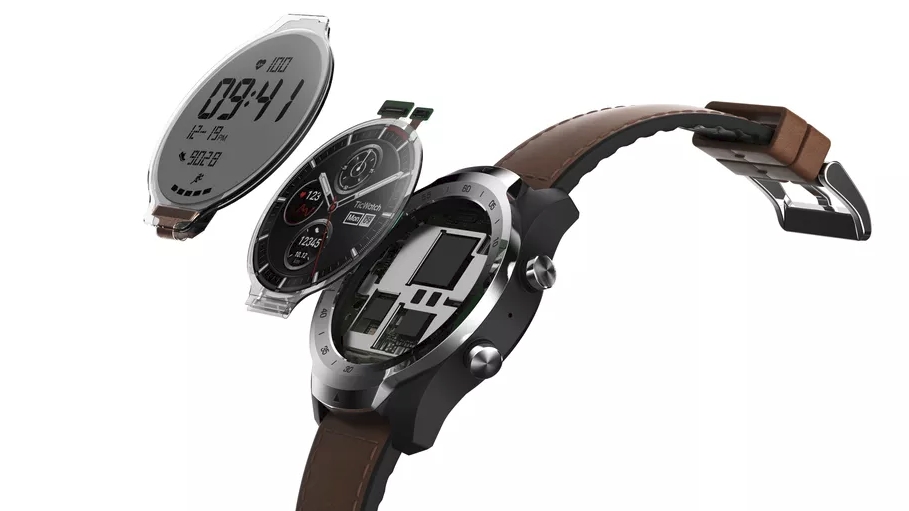 The OLED screen is 1.4 inches with a resolution of 400 x 400, making it fairly large and sharp. The watch has what Mobvoi calls a "premium build quality" as it has bezel and rear cover that's covered in stainless steel.
The rest of the case is made of hard nylon reinforced with glass fibre. You also have eight different strap choices for the Ticwatch Pro with an orange or black choice if you're looking for an entirely silicone choice.
There are also five straps with genuine Italian leather on the outside and silicone on the inside, so you can take them running without ruining the design. Those come in black, black with a silver buckle, orange, brown and black with an orange inside.
If you just want a leather strap, there's a brown one with a silver buckle available.
In all it looks to be going for a classy appearance, rather than a sporty one. It comes in at 12.6mm thick and 58.5g. It's also IP68 certified, which means it can be submerged up to 1.5 meters deep in water for up to 30 minutes – so it can survive the rain, but you shouldn't take it swimming.
Ticwatch Pro features and specs
Heart rate monitor, NFC and GPS
Snapdragon Wear 2100 chipset with 512MB of RAM
The Ticwatch Pro may look like a fashion-led watch, but it comes with a heart rate monitor, GPS and step tracking skills. It also has NFC, so you'll be able to use the watch to make contactless payments through Google Pay.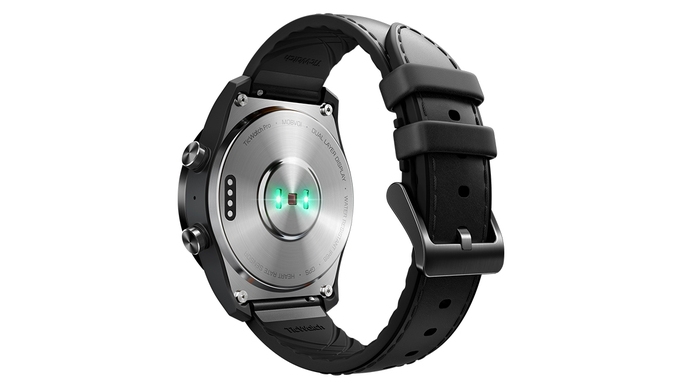 Apparently, the US might also get a model with LTE included, which could allow you to use the watch in full while leaving your phone at home, but this isn't confirmed and it's not clear whether anywhere else will get a version with LTE.
Considering we've now got an official release about the launch in the US, we don't expect the LTE version of the watch will be coming anytime soon... if at all.
As for the specs, the Ticwatch Pro has a Snapdragon Wear 2100 chipset, 512MB of RAM and 4GB of storage, all of which are standard smartwatch specs.
TicWatch Pro OS and battery
Runs Wear OS, previously called Android Wear
Includes a 415mAh battery
Around 2 days of life with normal use or up to 30 in Essential Mode
The Ticwatch Pro runs Google's Wear OS, so at its core you should get much the same experience as you do on the majority of smartwatches.
Battery life is likely to be far better than most rivals though, as its ability to switch to a low power screen when not in use means it should apparently get around two days of battery life from its 415mAh juice pack.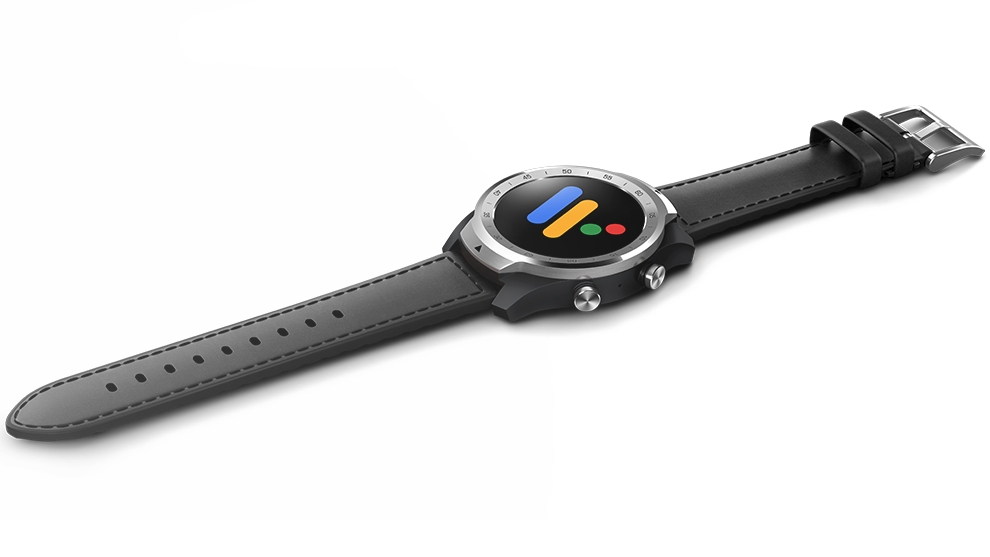 That's good, but no better than the likes of the Samsung Gear S3. However, where the Ticwatch Pro could really win out is in its 'Essential Mode', which completely shuts down Wear OS, leaving you with access to only the basic FSTN LCD display.
Starting up Wear OS again from here apparently takes around a minute, so it's presumably a similar process to rebooting the watch, but even in Essential Mode you can still see the time and track your steps and heart rate, and by using this mode you can apparently get up to 30 days of battery life from the TicWatch Pro.
Apparently additional features will be added to Essential Mode over time, but for things like notifications and contactless payments you'll have to switch Wear OS back on.